Video invitation to our brewery LANIUS
About our brewery LANIUS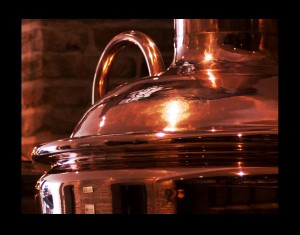 LANIUS brewery is of a kind known in the world as a 'craft brewery', although it can rather be referred to as a manufacturing brewery, as especially in our case it encompasses a tremendous amount of manual work. The brewing process itself, but also all related tasks, such as manual bottling, gluing labels…
Simply craft!
Thanks to our equipment, we can hold 6 to 10 various kinds of good beer at once, thus enabling us to offer you, our fans and beer enthusiasts, all of world's significant beer styles and their variations, one by one. For many people, and unfortunately also beer-drinkers, the world of beer begins – and
ends with Pilsner-style lager, preferably Pilsner Urquell, Heineken or Budweiser… This world of beer, however, is much more colourful, and apart from the Bohemian-style beers, there are also Belgian, Dutch, German, English, American and many other types of beer.
All these beers, classified by their historical or geographical background, are termed the beer styles – Ale, Porter, Stout, Weizenbier, Lager and their variations – and their categorisation and preserving is catered for by the BJCP (Beer Judge Certification Program). In our conditions best known Bohemian Lager is but one out of several thousand registered beer styles. It is of no coincidence, that for many years in a row have been the Belgian beers rated among the world's best, and the ones brewed in Trappist abbeys in particular.This variety is also present in the ingredients. There is not only the light Pilsner malt, but also Bavarian, Pale Ale malt, three sorts of crystal malt, dark roasted, wheat pale and dark and evenoat, rye and corn malts.
The beer would not be beer without good hops., but except from the exquisite Saaz sort of Czech origin, there is more than one hundred other traditional and special hop sorts, that grant the beers broad spectrum of aromas from herbal, through floral, fruity, citrus to spicy and earthy.And then there is the top and bottom fermentation arranged for by specially bred yeast, or even
spontaneous wild fermentation. People use yeasts capable of fermenting all carbohydrates, that create strong, dry beers or ones selectively not fermenting caramel, dextrose or fructose and thusmaking fruity or caramel beers, full-bodied or with marked flavours.
All this makes for our world of beer, in which you can travel with us, whenever you wish to.
History of townsman's house Lanius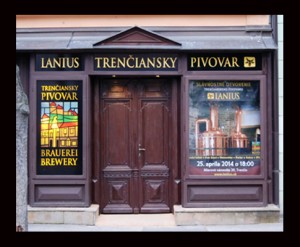 The first written mention about the house no. 20 on the Trenčín's main square comes from 1649. Then, it was owned by Thomas Lanius (lat. butcher) who indeed worked as a butcher. We used the surname of the first known proprietor as our brewpub's name. Thereafter, the house has been rebuilt several times, it burnt out and was restored again, yet it still has preserved its original medieval disposition.
All of the interiors has been sensitively restored and a number of historical artefacts resides here.An arched renaissance portal or an ornamented renaissance window portal discovered during excavations in the medieval basement only underline the historical character of the entire complex.The medieval atmosphere is completed by an original stone fireplace.
History of brewing in Trenčín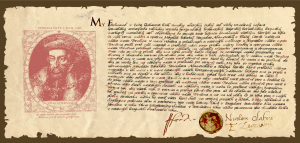 There is an ancient tradition of beer brewing in Trenčín, which has been documented in many archival records. Already in 1380, Trenčín has been granted a right to brew its own beer from Louis I Great. Beer revenues have been the most significant item on the town's income list. An exclusive right for wheat beer brewing by the city of Trenčín had been renewed by Ferdinand I in a bill of February 16, 1546, under the condition, that the yield would be used for the upkeep of city fortifications. Brewing of other beer styles was however allowed to anyone. In 1553, a new brewery with a relatively large capacity was built, employing four brewmasters. It brew mostly wheat beer with the addition of barley malt and hops. Even the town's citizens had their beer, for a fee, brewed in there and this fee was lower for the townsmen. In 17th century, Trenčín's beer (generally denominated as 'Slovak beer') was of a great renown even outside the city and was exported all the way to the 'Lower land' (South Hungarian plains reaching to today's Croatia). Local grain and hop harvests of town's estates sufficed the brewery's rising consumption no more and they had to buy from the surrounding estates. The brewery burnt out in 1708, but was back in service shortly thereafter and was gradually increasing its production. It was already barley beer that has been brewed. They brewed around 25 batches a year. A part of each batch had been given as a reward to the city's employees, from the reeve and a vicar to city's rangers. The building of this brewery, so-called Bauer's house, located at Vajanského Street (today's place of Laugaricio hotel next to Prior department store), was demolished after the second World War.
Plans of another brewery located in the Humná city quarter preserved in city archives dated to 1788. Except for the city, also the Illésházy family owned one, later two breweries and their respective bars. In 18th century, particularly after the 1708 fire of the city brewery, newly appearing nobility-run breweries posed an illegal competition for the town's beer, which was hardly even faced by the city, despite the city being in the right. The city's beer right was however not only used by the city brewery, but was also rented to townsmen, who used it in their private breweries.
Their number slowly rose in the course of 17th century from 4 to 40. In a brewery run by Kugel and Spitzer, in the 3rd quarter of 19th century worked one brewmaster and two helpers. The beer was brewed in a squared pot year-round. In 1872 they made 2008 buckets of beer, the following year it was 1548 buckets and the year after mere 736 buckets. This decline in production documents the unavoidable downfall of small producers, that followed with the onset of an industrial era in the end of 19th century, when they were replaced by large-scale production in modern huge breweries in Ilava and Bytča. Also Moravian beer from Brumov and Jarošov was imported into Trenčín, which undoubtedly benefited from the construction of a railway from Trenčianska Teplá to Moravia in 1888. Beer brewing in Trenčín disappeared altogether by the end of 19th century.